As a leader in industrial supplies and equipment in Southeastern Pennsylvania, Maxwell Products has a strong background in metalworking and woodworking, particularly with regard to finishing. We have experience in helping fabricators of metal, wood, and composites provide the finishes that their customers demand, ranging from rough matte and grain finishes to highly polished gloss and mirror finishes.
While we try to list everything we have available from the many manufacturers we represent, product additions and deletions are a challenge for us to keep up with on a daily basis. If you don't see what you need, please call us for quick, personal service.
Call us at 888-699-2224 to see how we can help you.
Doing Business
Our primary focus is business-to-business, particularly helping our customers stay lean with their manufacturing supplies and competitive with their production processes. To accomplish this, we ...
Adjust our inventory to assure in-stock status for key customer supplies
Dedicate inventory to our customer's specific needs
Use our purchasing power and inventory management to pass along best pricing
Still offer a 2%, 10 day prompt payment discount to qualified customers to help stretch purchasing dollars
Accept purchase cards and credit cards for your convenience
Our broad customer base also allows us to sell many items in less-than-case quantities.
We offer special order and custom items on our site. We don't focus on only the high-velocity 10% of manufacturer's offerings. Please note that a 10%+/- variance can apply to most custom order items.
We believe strongly in maintaining personal relationships. When you call us, a person answers the phone, puts you in touch with the best person to meet your needs, and focuses on what you really need rather than make you guess and pick a part number from a catalog.
To build a relationship and take advantage of all that we have to offer, complete the Credit Application.
If you have a Pennsylvania address and qualify for tax exemption, use this Pennsylvania Sales Tax Exemption Form. As a result of the 2018 Supreme Court ruling on interstate sales tax nexus, we encourage you to send a tax exemption form from your home state. Our expanding presence nationally may impact your state in the near future. These may be sent to AcctsRcv@maxprod.com.
Affiliations
Our commitment to excellence is evident by the company we keep. We endeavor to partner with the best organizations in our industry.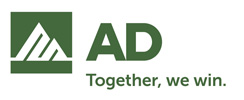 Affiliated Distributors
is an organization passionate about uniting independent distributors and elite suppliers to keep both at the forefront of the industry market.